Cook your own gourmet South Tyrolean specialities
Our chef Stefan's special recipes
Has your gourmet holiday in South Tyrol left a good taste in your mouth? Then why not relive (some of) the experience from the comfort of your own home? Our Stefan has rummaged through his drawer and found some very special South Tyrolean recipes for you. Schlutzkrapfen, cheese dumplings, Buchteln... all these dishes are delicious and so easy to cook at home! So, enjoy your cooking, and as we say here… Mahlzeit!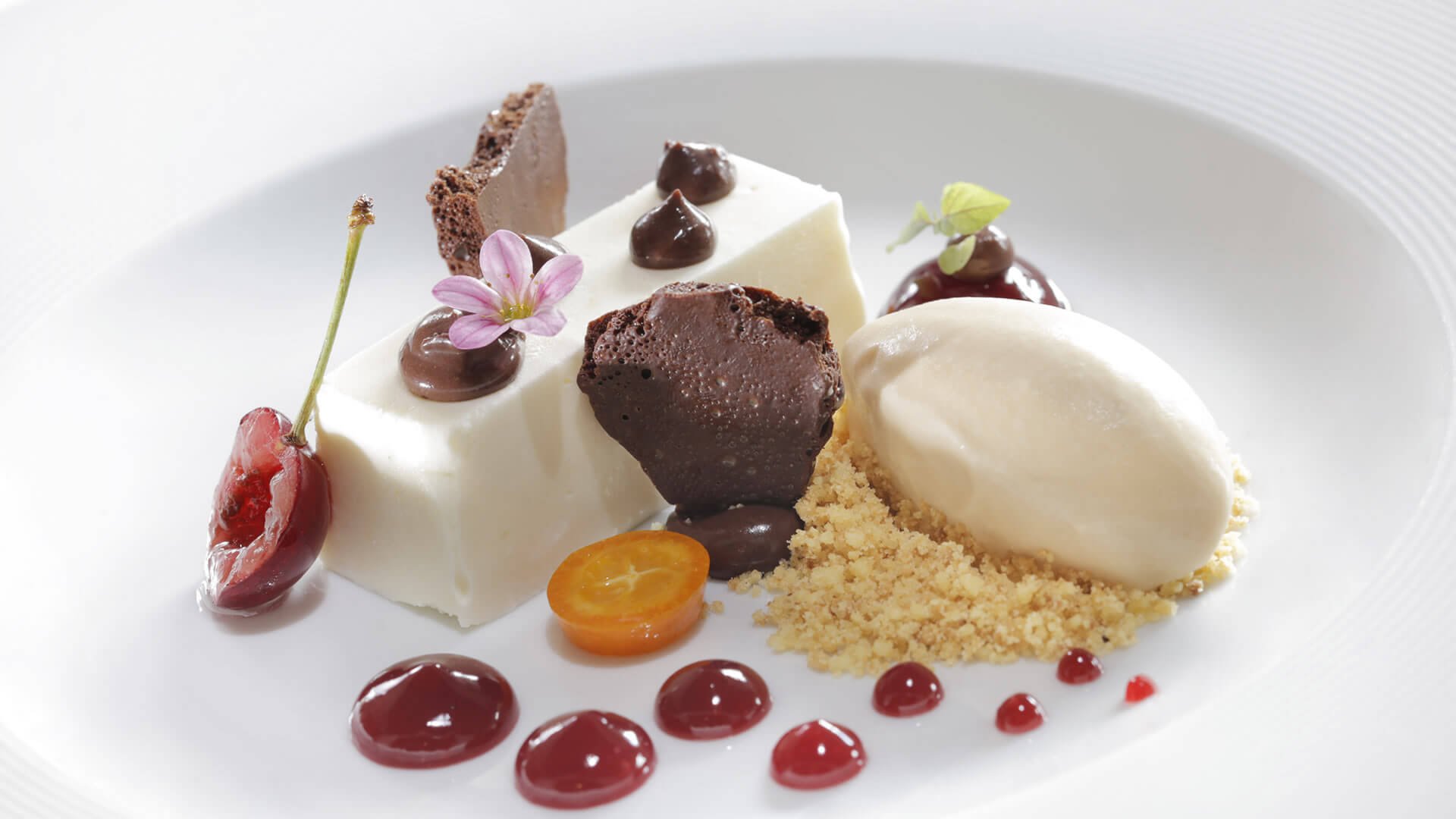 "Schlutzkrapfen" (South Tyrolean ravioli) for 4 persons
Ingredients dough
150 g rye flour
100 g wheat flour
1 egg
50-60 ml lukewarm water
1 tbsp. water
Salt

Ingredients filling
150 g cooked spinach (about 300 g fresh spinach), 50 g finely cut onions, ½ finely cut garlic, 1 tbsp. butter, 1 tbsp. Parmesan, freshly ground pepper, salt, shaved Parmesan, brown butter, finely cut chives

Dough
Mix both types of flour with the salt and lay out on the pastry board in wreath shape.
Mix the egg with lukewarm water and oil, pour in the middle of the flour wreath and knead into a smooth dough.
Leave the dough to rest for 30 minutes.
Filling
Finely cut the spinach, steam the onion and garlic in butter, add the spinach and let it cool down.
Add Parmesan and chives, season with salt and pepper and mix well.
Roll out the dough very thinly using a pasta machine.
Work the dough as quickly as possible to keep it from drying out.
Use a smooth cutter to cut out round shapes with a diameter of approx. 7 cm.
Place the filling in the middle with a small spoon or a piping bag.
Moist the edges with water and fold the dough into the shape of a half-moon.
Close the edges by pressing them with your fingers.
Cook the "schlutzkrapfen" in salt water. When they surface, take them out with a slotted spoon and serve them with Parmesan and brown butter. Dress with chives.
Cooking time: approx. 3 to 4 minutes

Tip
For an alternative filling, add cooked and mash potatoes.

Source: So kocht Südtirol, Athesia Verlag
Cheese dumplings for 4 persons
Ingredients
30 g onions
20 g butter
100 g cheese (grey cheese, Gouda, Tilsiter or mountain cheese)
1540 g cubes of white bread
2 eggs
100 ml milk
1 tbsp. flour
2 tbsp. finely cut chives
Freshly ground pepper
Salt
20 g shaved Parmesan
30 g brown butter

Preparation
Peel, cut and sweat the onions in butter.
Cut the cheese into cubes and mix with onions and bread.
Mix the eggs with the milk, add the chives and mix with bread.
Season with salt and pepper and mix thoroughly. Add the flour and knead the mass until you have a firm dough.
Shape dumplings with wet hands.
Bring a pot with plenty of salt water to boil, boil dumplings in boiling water.
Take them out, drain and place on plates or tray. Sprinkle some Parmesan cheese on top, followed by melted butter and dress with chives. Serve.
Cooking time: 15 minutes

Tip
Serve with green salad or cabbage salad (refined with pieces of bacon)

Source: So kocht Südtirol, Athesia Verlag
"Krapfen" from Vipiteno/Sterzing (10 doughnuts)
Ingredients dough
200 g four
70 g rye flour
20 g butter, melted
100 ml milk, lukewarm
1 egg yolk
50 ml cream
10 ml schnaps
1 pinch of salt

Ingredients filling
2 pears or apples
Juice of 1 lemon
30 g raisins
10 ml rum
50 g poppy seed, gemahlen
70 g honey
100 g curd cheese
30 g bread crumbs

Other ingredients
Shortening
Icing sugar

Dough
Mix all ingredients and knead into a smooth dough
Let it rest for about 20 minutes
Filling
Peel the pears or apples, cut in small cubes and add lemon juice, soak the raisins in the rum, mix with the poppy seed, the honey and the curd cheese, bind with the bread crumbs and let it rest for a short while.
Preparation
Use a rolling pin to flatten and cut out thin, oval sheets (approx. 12 cm long and 8 cm wide).
Place the filling with a spoon or piping bag onto the sheets.
Brush the dough with a little water, close the bags well, pressing the edges firmly together.
Bake the doughnuts in very hot fat, sprinkle with dusting sugar and serve.
Baking temperature: 190-200 degrees
Baking time: 1-2 minutes

Quelle: So kocht Südtirol, Athesia Verlag
"Buchteln" (12 small portions of warm yeast dumplings)
Ingredients
20-25 g yeast
40 g sugar
120-140 ml milk
40 g butter, melted
2 eggs
400 g flour
1 package vanilla sugar
1 pinch of orange peel, grated
1 pinch of salt
1 tsp. rum
Jam to fill
Melted butter to spread

Preparation
For the starter dough mix the squished yeast and sugar in a bowl with a bit of the lukewarm milk.
Leave the starter dough rise for about 20 minutes at a maximum temperature of 35 °C.
Melt the butter, add the eggs and the spices (vanilla sugar, orange peel, salt and rum). Add the flour and mix.
Knead or beat the dough well, until it blisters, then cover it up and let it rise for about 20 minutes.
With a rolling pin roll out the dough not to thin (approx. 1 cm), cut out pieces of a diameter of about 6 cm, fill with apricot jam and close well.
Spread the melted butter onto the "buchteln" and place them in a buttered baking tray with the opening facing down. Cover them up with a kitchen towel and place them on a warm spot. Let them rise for 15 minutes. Preheat the oven onto 180 degrees and then bake the "buchteln".
Let them cool off shortly in the tray, then place them on the baking tray. Serve warm.
Baking temperature: 180 degrees
Baking time: 30 minutes

Tip
Serve the warm "buchteln" with custard and cinnamon ice cream.

Source: So kocht Südtirol, Athesia Verlag
Ingredients
2 fresh mangos
300 ml cream
50 g sugar
4 gelatine sheets
Lemon
Preparation
Peel the mangos, cut one part into little cubes and purée the rest.
Whip the cream with a little sugar until stiff.
Soak the gelatine in cold water and dissolve in a bain-marie. Add a squeeze of lemon and a bit of the mango purée.
Mix it up and fold in the rest of the cream and the mango purée.
Fill the mousse into your chosen forms (glasses or other) and turn it out onto a plate or scoop it out with a spoon.