Gassenhof's culinary delights
Farm to fork: The authentic taste of South Tyrol
Pamper your palate with the Gassenhof gourmet cuisine
There is more to a stay at Gassenhof than "just" outdoor experiences, a variety of activities, a quality spa and great panoramic views. When it comes to the culinary side of the experience, we take things to the next level.
Our Stefan is a professional chef, and together with his kitchen brigade, he devotes his every day to creating fresh, toothsome specialities combining creative Alpine recipes with indulgent Mediterranean touches. For his dishes, Stefan uses fresh, seasonal produce sourced as locally as possible and processed with liberal amounts of love and creativity.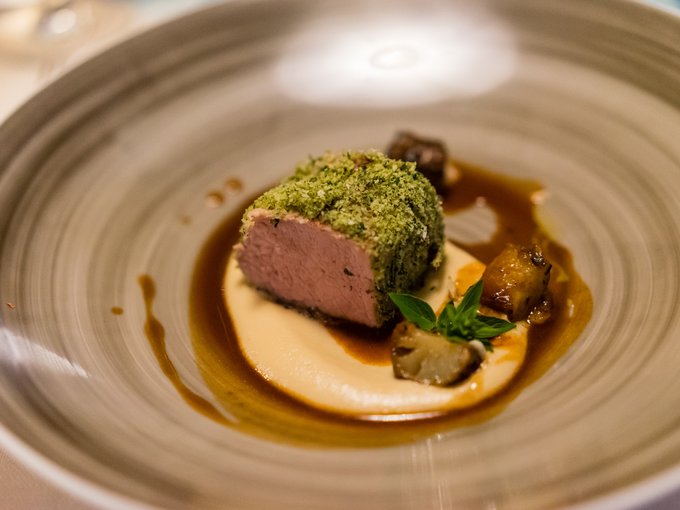 Get a great start in the morning with a breakfast buffet rich in high-quality, vitamin-packed goodness, and end your day in style with a sumptuous gourmet dinner choosing from several options for each of the six courses. Besides our home-made delicacies, you will also have a choice of starters, crisp salads and indulgent desserts from the daily buffet.
The man behind the kitchen door
Host Stefan has turned his passion for cookery into his life's job here at Erlebnisort Gassenhof. He discovered his love of South Tyrolean cuisine from an early age, and pursued it training as a chef in the town of Brixen. As head chef at Gassenhof, he loves to prepare hand-made local specialities, reinterpreting them with a touch of creativity.
With his soul deeply rooted in his homeland, Stefan knows that when it comes to taste, you can't beat local. This is why, here at Gassenhof, adjectives such as "regional", "seasonal", "fresh" and "sustainable" are watchwords, not empty buzzwords. And you can see, smell and above all taste the difference! But Stefan also knows that the only way to continue offering a superlative experience is by constantly researching, improving and evolving. So, he keeps honing his skills by attending training courses held by starred chefs, as well by exchanging ideas with fellow chefs. There is no such thing as standing still with the Volggers – and certainly not at Erlebnisort Gassenhof!
In fact, it is by keeping up to date with the developments of the ever-evolving food and dining sector that our gourmet restaurant can cater to the needs of every guest, serving food that tastes as good as it feels. If you are intolerant to gluten, lactose or any other food, let us know at the time of booking and you won't need to give it a second thought. Stefan and his brigade will work their magic and prepare a delectable allergen-free meal that tastes like heaven.